This Water Bottle Has a Hidden Coffee Cup Inside, So You Can be Hydrated and Caffeinated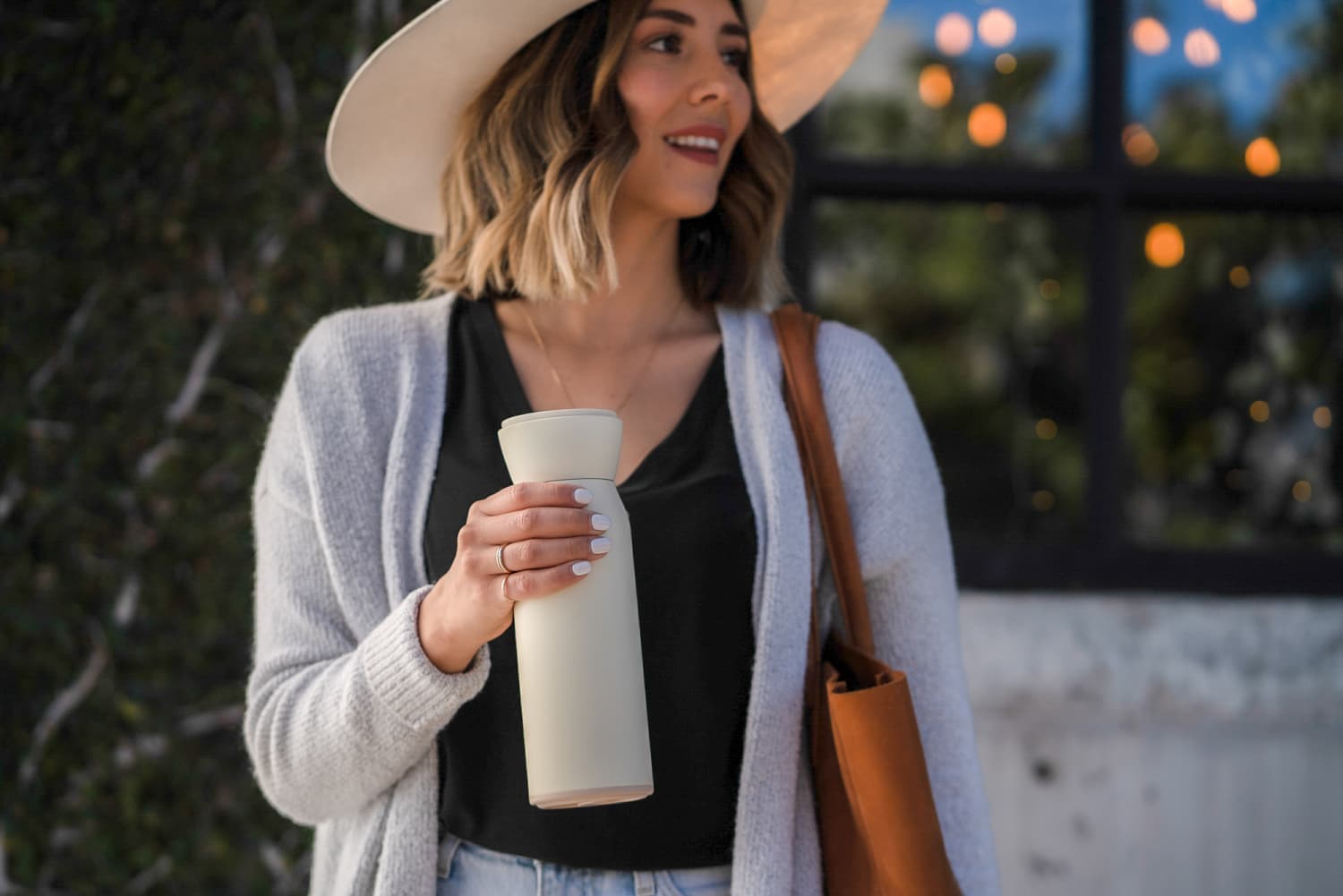 We independently select these products—if you buy from one of our links, we may earn a commission.
Exciting news for those of us who prioritize consistent hydration and routine caffeine fixes: a water bottle-coffee cup combo. Better known as Hitch, the efficient bottle and coffee cup combo is a sustainable solution that consists of an 18-ounce, vacuum-insulated water container and a 12-ounce, vacuum-insulated coffee compartment. The patent-pending design is equipped with a crossbar that you can twist to release the cup from the bottle.
The Hitch container encourages people to adopt a zero waste approach by eliminating the need for plastic water bottles and single-use cups for sipping coffee on the go. Plus, since they stack, you don't have to have separate containers for hot and cold beverages taking up space in your bag. The container can be used in three different ways: as a full bottle with the empty coffee cup concealed; the full bottle and full cup separated; and the full cup can be attached to the top of the full bottle. Each Hitch comes with a weatherproof cap that fits on the top or bottom of the bottle.
The 9.5″ tall bottle fits into most cup holders and has a tapered shape that's easy to hold to help reduce spilling. Hitch comes in four shades: natural white, pale blush, charcoal gray and forest green.
Hitch has currently exceeded its fundraising goal, though the campaign is still running. For a pledge of $49 or more, supporters will receive the vacuum-insulated bottle and cup combo, along with the bottle protector and the leak-proof cup lid. Additionally, Hitch will plant a tree on your behalf and also remove 1 kg of ocean-bound plastic waste so that shipping the product is carbon neutral. Products are expected to begin shipping in October 2020.
Published at Tue, 12 May 2020 14:45:00 +0000
4 Things that Define an "Adult" Pantry, According to Home Stagers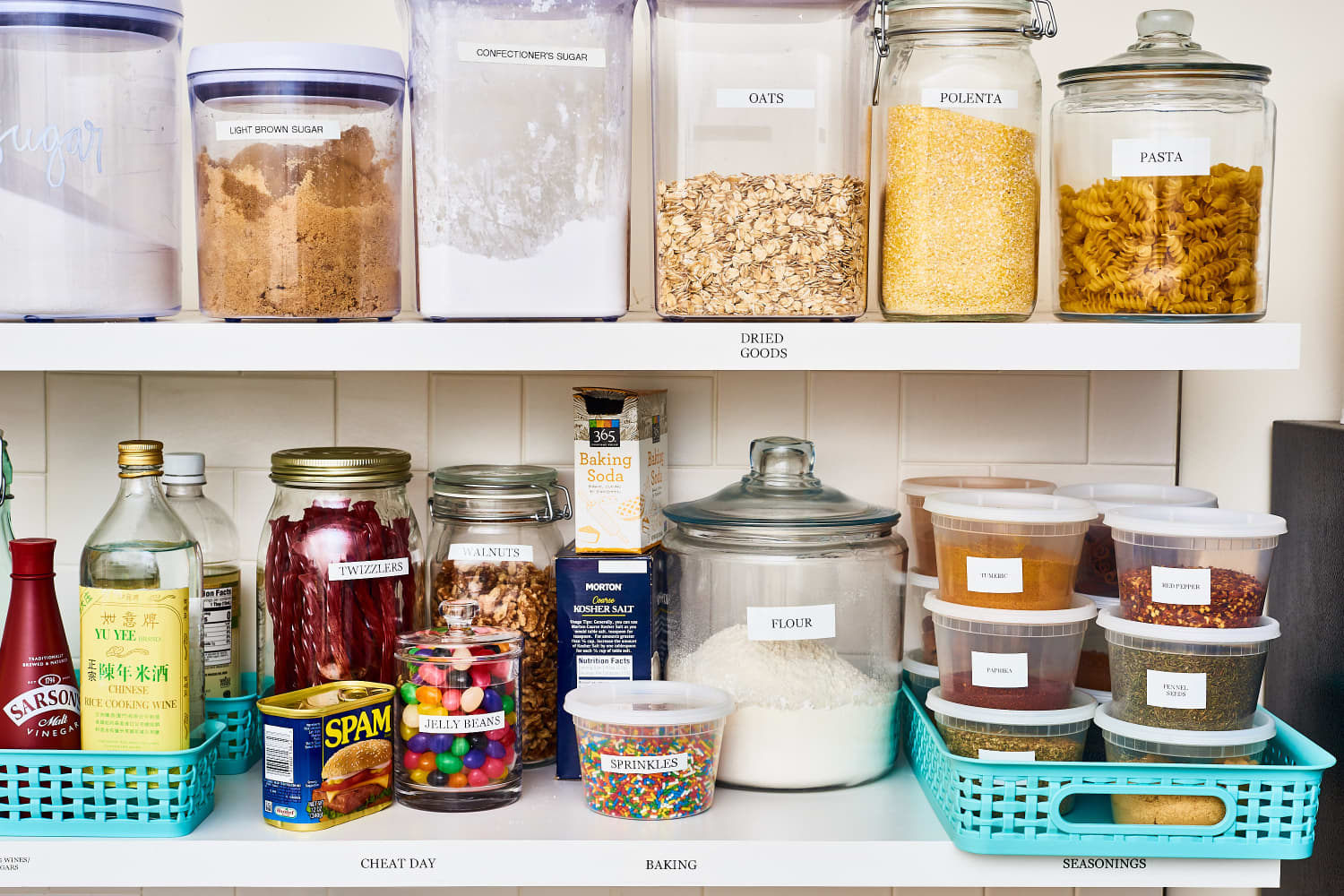 I don't know about you, but once I started working from home, I found myself spending way more time in my kitchen. Daily check-ins with my boss… while perusing the fridge. Muting a Zoom chat to respond to the microwave's siren call. And with fresh perspectives comes new questions. "What does my pantry say about me?" "Is this what an adult pantry even looks like?" "Did I really eat half a jar of peanut butter last night?"
I spoke (in between bites) with designers and home stagers to get their take on what defines an "adult" pantry, and their ideas will inspire you.
Eye-catching organization
There's one item everyone I spoke with shared immediately: Labeled glass jars. Krisztina Bell, founder of No Vacancy Home Staging in Atlanta, says that the Kardashian's impeccably styled cookie jars inspire her storage. She uses them for pastas, legumes, and grains, and says, "You can also show off the different types of baking supplies—the chocolate chips, the brown sugar, and different flours."
Daniela Benloulou and Nicole Graff, co-owners and principal designers for Los Angeles-based interior design firm Hamsa Home, agree. "I think anything that helps you with better organization—that's definitely something I would say is related to adulting," Graff says. "The clear bins with labeling, whether it's a decal label or even a label maker, that helps." Whenever possible, removing products from their original packaging and placing them in airtight glass containers streamlines the pantry's look.
While repackaging food creates a cohesive pantry, a grown-up pantry's organization is really key. Shirin Sarikhani, the founder and CEO of Seattle Staged to Sell, says, "If everything has a place of its own, then you keep [the pantry] organized." To do this, go for grouping. "For my pantry, I have a basket that has all of my cookie cutters, my baking [ingredients]—all baking essentials in one place so I can just pull it out and use them," says Sarikhani.
Sarikhani also simplifies her kitchen by keeping recipes on hand in the pantry. "If you have an index card, have [your] recipe on the back of it and have all the ingredients in case you want to make that dish. You just take out the index card to the grocery store." This is especially helpful for dishes that are a part of a household's weekly rotation. It's so easy to forget one key ingredient, but having a visual reminder in the grocery store prevents forgotten items.
When I think of pantry staples, I think of my 100-year-old Italian great-grandmother whose cellar "cantina" was never without rows and rows of supplies. Be like Josephine—prepared for anything. Sarikhani says, "It's good to have the essentials. Have birthday candles. Have everything that, if someone comes to your home, you can make [something] from scratch. Have a box of brownie mix. Those things, just have in your pantry, [because] you never know."
The types of staples you keep on hand also speaks to whether a pantry is "adult" enough. Benloulou says, "Having real foods that take a really long time to make but are healthier. I think that's another sign that you're taking care of yourself and looking out for your long-term body health." Broth, canned tomatoes, beans, grains, oils, and spices all lend themselves to improvised, well-balanced meals.
The pantry is an oft-forgotten place for self-expression. Says Graff, "A lot of the time people think that your personality can really only be shown through your furniture or through your accessories in your home or your wallpaper and your artwork… but a lot of people come up with a lot of fun in their pantry as well." Introducing paint or wallpaper into your pantry can supply a pop of personality.
Bell recommends opening up the cabinetry, as she's styled in some homes. "They want to show off more of their dishes, plates, and their cute collections of festive entertaining dinnerware." Don't be afraid to display your spices from a trip abroad, your collection of thrifted teacups, or your eight unique bottles of olive oil. Own it!
In many cases, folks who don't have a dedicated pantry can improvise. "If you don't have a pantry, it's possible there could be another little nook in the kitchen somewhere where you can fit a baker's rack," Bell says. "You can do the baker's rack and do the same thing with the cookie jars and the baskets and have it however they want to arrange it." A few adjustments can produce the same storage and aesthetic opportunities that a pantry provides.
Published at Tue, 12 May 2020 14:00:00 +0000