7 Ways to Spruce up a Small Outdoor Space for $75 or Less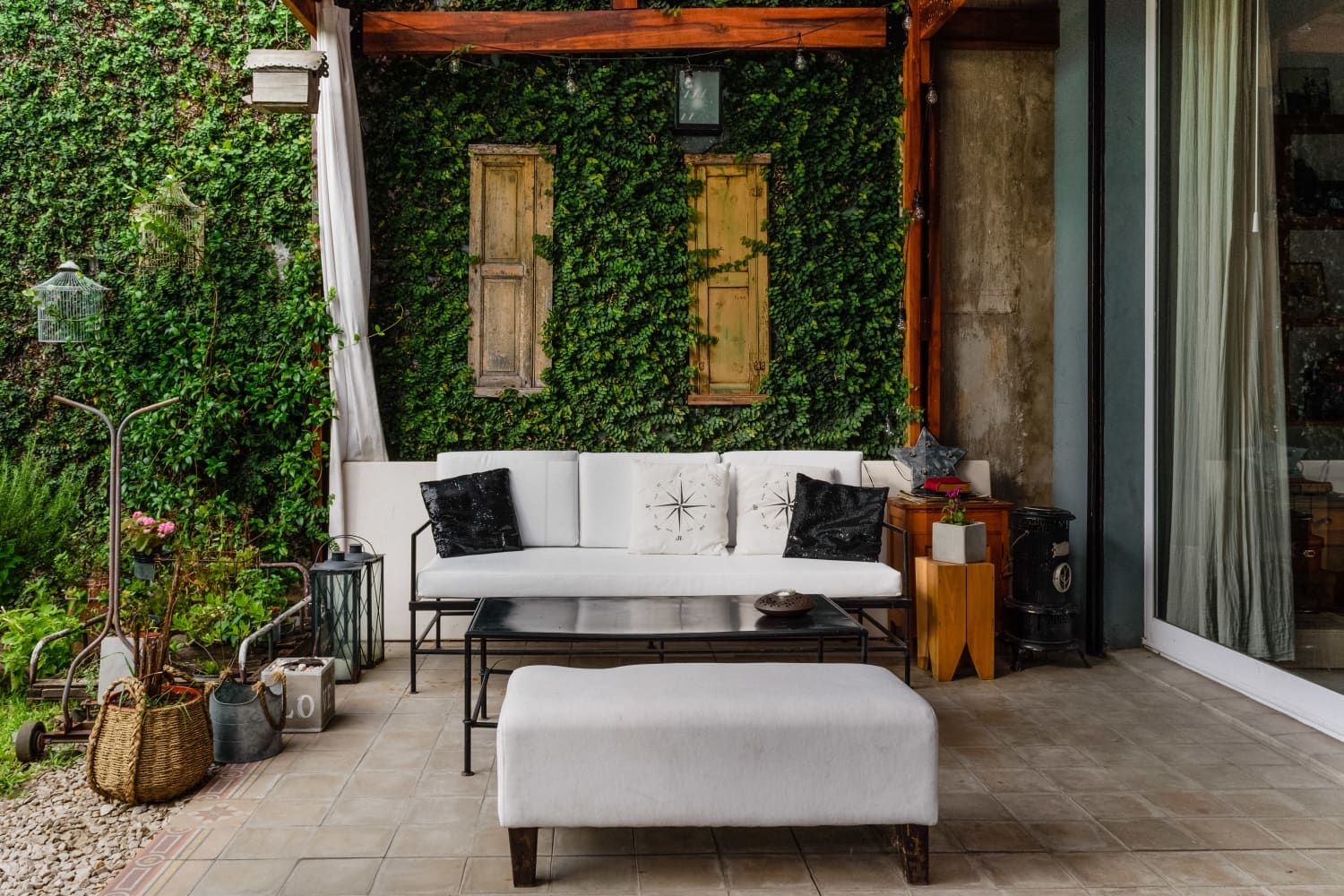 We independently select these products—if you buy from one of our links, we may earn a commission.
Summer may be winding down, but there's still plenty of time to enjoy your outdoor space, no matter how small. And whether you have a tiny deck, patio, or backyard, after a few months of use, your space could probably use some love right about now. That doesn't mean you have to spend a ton, though! Here, eight ways to give your outdoor space more color, function, and flair, each ringing up at $75 or (much, much) less.
Create railing planter boxes to grow your garden with limited space
On my own small deck, I drilled planters boxes into the existing railings to give me more space to plant. Each planter box was under $30 a piece (similar ones can be picked up at Home Depot). Filled with tomato plants, a bell pepper plant and a jalapeno plant, my railing planters gave me additional space and plenty of veggies to eat throughout the summer. You could fill your own with flowering annuals, like the example above.
Also, be budget-conscious when selecting plants to fill your boxes and choose ones that propagate easily. "They multiply," says Kori Gervasio, owner of Colly Flowers in Morristown, N.J. "You can replant these in different pots and start growing a whole new plant." Some of her favorites are Chinese money plants, spider plants and aloe vera.
Add a DIY bar to make more hangout room
In addition to plants and relaxation, your tiny space can be a lot of fun. Nicole Peesker, who lives in Alberta, Canada, wanted a bar for her small patio. But the cost of a set and the amount of space it would take up deterred her.
Winning the brother of the year award, Nicole's brother surprised her and built her a bar of her own. He used cedar boards, brackets, screws and some good old fashioned elbow grease to create this great addition to her outside living area. Once she added two stools she already had, Nicole was in business.
Install a trellis for privacy
A trellis is a great way to grow plants vertically—and it can be a perfect way to add some privacy, too. Hit up a home center to find wood trellis pieces, which you can anchor in soil or by placing each of the feet in a small bucket that you then fill with concrete to keep it stable. Once your trellis is in place, you can use it to train climbing plants like ivy—or you can use twist ties to anchor faux plants to it for instant green.
One of the best parts about summer is being outside, especially in the evening when it's not wildly hot. String lights add dreamy sparkly to nighttime hangouts, but if you don't have somewhere to attach the lights, don't worry: You can easily make renter-friendly poles to hang lights from. You'll need wood 2x2s—either two or four, depending on the size of your space—as well as one bucket per wood piece. You'll also need concrete mix, paint of your choice, and screw hooks.
First, mix the concrete in the bucket per the instructions, then stick a wood piece in the center. Repeat for each pole. Then, paint or stain the pole your desired color—black and green paints are both attractive, seamless options—and place in the far corners of your space. Twist the screw hooks into the poles; you'll likely need to drill a pilot hole first for easy install. Then, string your lights up, hanging them from the hooks on each pole.
To create the look of string lights on a budget, buy a strand of Christmas lights and use ping pong balls to give them a globe effect. For about $10 for the strand plus a few extra dollars for the balls, you've got yourself something special and much more inexpensive than a strand of Edison bulb lights.
Create an awning for shade
To update your outside space and provide a respite from the sun, add some shade with a DIY awning made from outdoor fabric that you can score for as low as $10 per yard. Use removable outdoor Command hooks to attach one side to your home; for the other side, you can use the same rental-friendly concrete poles that work for your string lights.
Depending on what size you decide to add, these tarps can start as low as $10 per yard; I really love this bright yellow one to add some cheer to an outdoor space. In addition to the tarp, all you need is 1x2s, duct tape, and some nails to hold up the wood and attach the tarp to the pieces. For tools, a staple gun and a drill will do the trick.
Make a concrete garden stool
To make it, she used a bag of concrete, a concrete form tube, water, and a 5-gallon plastic bucket. If you're looking to add some extra color to it, you could hit it with a bit of spray paint—but left plain, it's equally chic, with a cool Scandi-meets-industrial vibe.
Build a hanging chair (or two!)
One of the best parts of being outdoors is kicking back in a lounge chair—and a swinging lounge chair feels doubly relaxing. The Merrythought created this infinitely cozy hanging chair with just a drop cloth, dowels, and rope.
The most important part of this is safely hanging it. Make sure you hang it on a hook that supports at least 300 pounds and hang it from a strong point in the ceiling. If you're under an overhang, find a ceiling joist and hang from there, as it'll be the strongest place to do so.
Published at Thu, 13 Aug 2020 17:02:05 +0000
Early Access to Nordstrom's Anniversary Sale is Live for All Cardmembers! Here's What to Shop for the Home
We independently select these products—if you buy from one of our links, we may earn a commission.
Good news: Nordstrom's iconic Anniversary Sale is officially here, with major deals on top-selling products and plenty of new merchandise for fall. The sale opened up to select cardmembers on Aug. 4, but as of today all cardmembers now have access to shop the sale—and it includes tons of great products for home. If you're not a cardmember, you'll be able to shop the sale on Aug. 19, but until then you can preview the entire sale and add your favorite products to a wish list. Below are a few finds for the home from top brands that we're adding to our own wish lists, but remember that new items are added daily, so keep checking back and get ready to shop!
Published at Thu, 13 Aug 2020 16:45:07 +0000