6 Little Ways Home Stagers Make Your House Look Brighter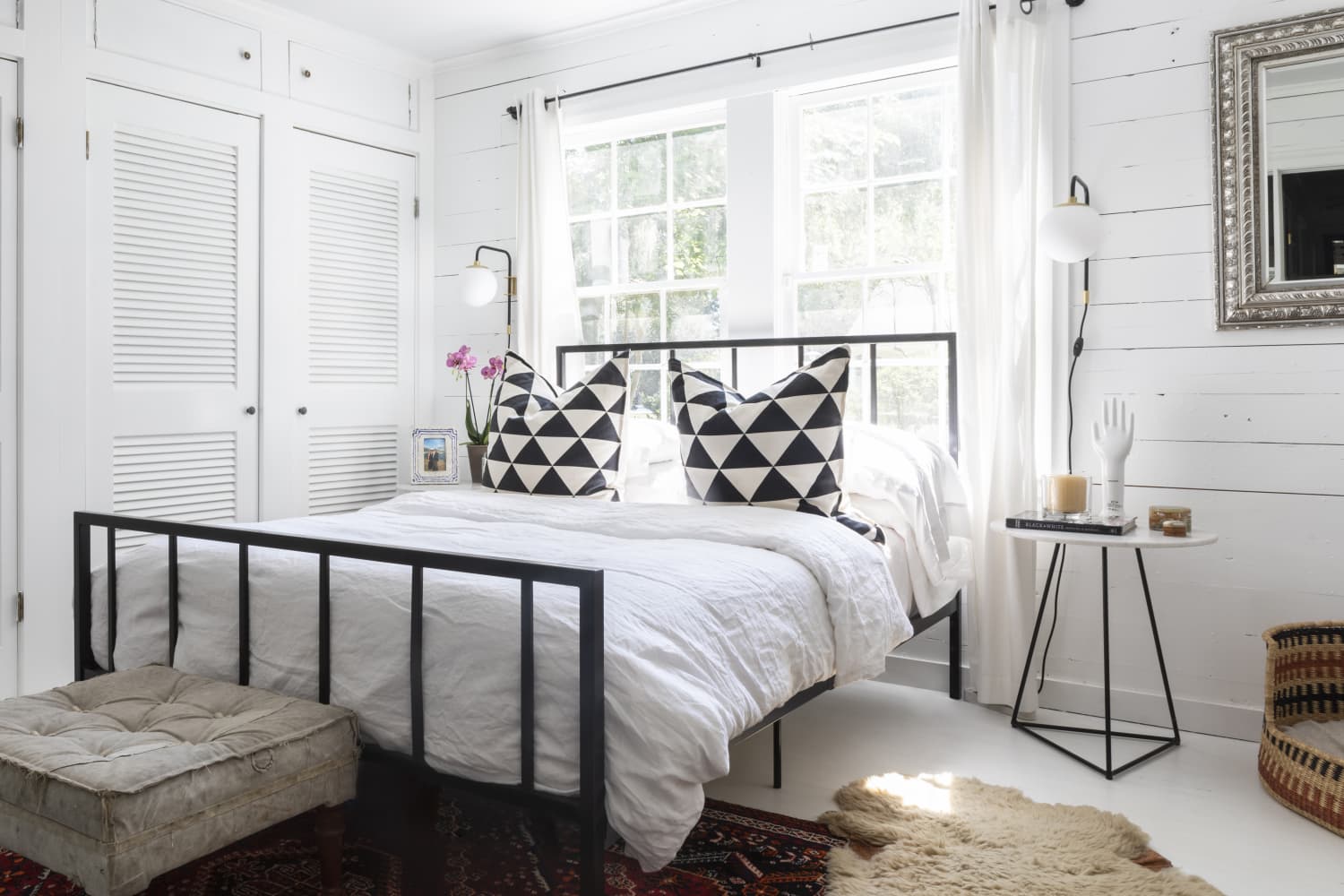 For city dwellers, brick walls are an all-too-familiar view outside windows. My own Boston apartment virtually has no natural light. The kitchen has a petite window that looks out to bricks (bricks in need of a pressure clean, I might add), while my bedroom windows peer into the neighboring building. Needless to say, natural light is on the list of must-haves for my next apartment.
Whether it's a windowless nook or a room in the back of the house, the absence of natural light can be drab—especially during stay-at-home orders. Every room deserves to be brightened up, even if it takes some extra TLC. Here, home stagers share tips to make your home look brighter.
For walls and floors, the lighter the better
The first step to making your space brighter is—you guessed it—light paint. Melissa Morrissey of Boston Modern Staging + Design recommends Benjamin Moore's Simply White or Gray Owl if you're not ready to make the leap to plain white walls. If you're more of a pop-of-color person, you don't have to stick to neutrals. Anne Kenney, president and CEO of home staging company, Anne Kenney Associates, says any pale color could work with an eggshell finish. And make sure to keep the ceiling white.
To complement the walls, white or light tiling in the bathroom and light wood throughout the rest of the house will suffice. Kenney says area rugs can do the trick in a home with darker floors.
Let there be (artificial) light!
Kenney says placing floor lamps and table lamps—with white lamp shades—in two or three corners of the room is essential. "You're going to want to be able to increase or decrease the amount of light depending on the day. So [use] a three way light or a dimmer that goes up to 150 watts," she says. The higher the wattage the better, but make sure your bulbs are warm and uniform.
Decorate furniture with colorful accents
For furniture, keep it simple with white or neutral colors. Donna Dazzo, president of Designed to Appeal, says, to make room for fun with accents. "If you're going to use a monochromatic color scheme, vary the textures of everything so that it adds some interest to the room," she says. One way to do this is by layering textured pillows on the couch. Reflective surfaces like mirrored coffee tables or metallic/glass pieces also increase the amount of light in any room, Dazzo says.
Add another item to your cleaning list during the pandemic: windows. Kenney says this does the trick to really brighten up any space. "People should take out their screens when they're showing their homes—you don't realize how much the screen is blocking light," she says.
And in the battle of blinds versus curtains, both win if you use them properly. If you require less privacy, Morrissey recommends sheer curtains. Otherwise, any type of blinds will do, including sheer accordion shades that allow for light to pour in.
Hang a mirror, mirror on the wall
Mirrors. Mirrors. Mirrors. Hanging these is the age-old trick to help reflect whatever natural light there is in a darker room. Whether it's a series of vertical mirrors or one large horizontal one, Kenney says to keep them thin and "the bigger the better!"
Use wall hangings to let your personality shine through with fun patterns or tasselled, textured pieces. "You don't need to go crazy with a bunch of them," Morrissey says. One very large canvas over your bed or a piece in the living room will brighten and dazzle.
It's always a good decision to decorate with plants. "Any apartment is going to be feeling a little—particularly during these times—lifeless, so anything natural you can bring in is fantastic," Kenney says. Be it a large succulent or tropical floor plant, any live beauty will lighten your home.
Published at Tue, 23 Jun 2020 15:00:00 +0000
How to Paint a Tile Floor for a Budget-Friendly, Colorful Upgrade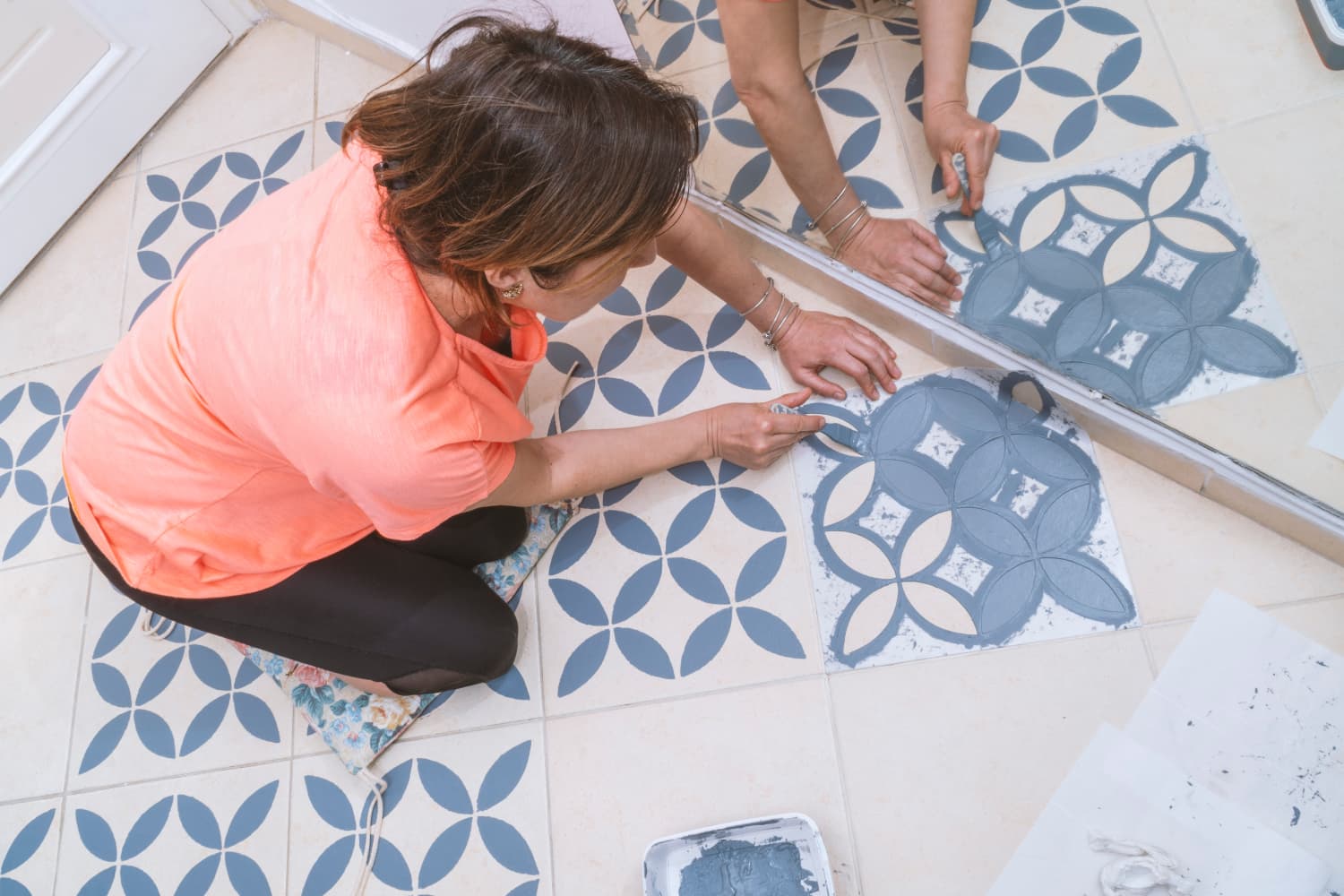 We independently select these products—if you buy from one of our links, we may earn a commission.
You already know that painting walls can totally change a room on a shoestring budget. But paint can be used to create budget transformation on other surfaces, as well. Painting floor tile has become a creative way to add some personality to bathrooms, kitchens, mudrooms, or any other space with tile flooring. Truly, some of the before-and-afters of painted tile floors are unrecognizable (in a good way).
If you take your time and do it correctly, painting your tile floor is a great money-saving DIY project—but, speaking as someone who has painted their kitchen tile floor before, trust me when I say it's imperative that you don't skip out on the prep work. Know that it's going to take a hot minute to complete this project—so if you're working in a high-traffic area of your home, perhaps consider relocating for the amount of time it takes you to complete the project.
"The beauty about painting is you can change the perspective of any room, and it's economical," says Jonathan Rios, professional painter and owner of Rios Interiors in New York City. "It'll bring something different, because if you have to renovate, the cost will be 10 times more than if you do it yourself."
But the key question: Does it matter whether you're working with laminate, ceramic, or vinyl tiling? "The good thing is, now with the products that are on the market, you can basically paint almost anything," says Rios. The key is to pick and apply a good, strong binding primer.(more on that below). Here's what you'll need to paint a tile floor, and how to do it.
What you'll need to paint a tile floor
How to paint a tile floor
If you've been living in your space for a while, you'll want to do a good cleaning of the area before you even begin. We're talking a full-on mop-in-the-bucket floor clean to remove any scum or grime that has built up over time.
Using 220 grit sandpaper, give a light sanding to the tile. That helps remove any grease or anything stuck onto the tile you weren't able to get with a mop. It also helps the primer grip onto the tile. You can sand by hand, but if you're working with a good amount of flooring then a handheld sand orbiter will make your life much easier.
3. Thoroughly clean and prep the area
Time to clean again. Wipe away any sand grit you've created, and really take a second look at where any dirt could be hiding—like in the grout. If you don't clean it away now, it'll get mixed in when you start painting and then it will be a part of your life forever (speaking from experience here!).
If you want an extra barrier of protection, tape off the wall so that if your roller or brush taps the wall, you won't accidentally paint the wall with your floor color.
4. Be strategic about where you start
You definitely don't want to paint yourself into a corner, so be strategic about where you start. "Don't start painting near the entrance," advises Rios. If the furthest thing from the door is the tub or shower, start there, and then paint by backing your way out of the bathroom.
"If you are painting tiles in the bathroom in the shower area or a place with a lot of humidity, in the end, it won't last 100%," warns Rios. But the key to it lasting as long as possible is to use the correct primer. He recommends a strong-bonding primer that will adhere to otherwise hard-to-paint surfaces such as INSL-X Stix, KILZ, or Fresh Start from Benjamin Moore.
After the first coat of primer has dried, apply a second.
"An epoxy paint will last longer than a water-based paint..or you could use a Sherwin Williams or Benjamin Moore Floor & Patio paint," says Rios. "It will hold better than a regular wall or ceiling paint."
Once your top coat of paint dries, if you want to go back and add stenciling or designs, this is the time. Otherwise, enjoy! While painting your tile is not a forever-fix—especially in high-traffic areas—it's still a project worth doing. And it's much cheaper than replacing your current tile with different colored or patterned tile! "Don't be afraid to explore," says Rios. "At the end of the day, it'll be something that's worth it."
Published at Tue, 23 Jun 2020 15:00:00 +0000